How are we making our activities safe for you during the coronavirus pandemic?
For the full details please watch the video below the calendar.
Unicorn Encounter
31st August 2020 @ 10:00 am

-

12:00 pm
A magical 2 hours of unicorn fun for ages 2 to teens
A magical 2 hours of unicorn fun for ages 2 to teens.
Between Chester and Northwich.
Our unicorns will be beautifully dressed with bespoke hand-made horn and other decorations.
Find out all about unicorns
groom and pamper a unicorn
Come dressed for a photo opportunity with the unicorn
Create a unicorn keepsake, helped by our own princess
Receive a unicorn gift and certificate from our princess
Prepare the unicorn's stable ready for bed-time
Option for a short ride subject to availability (max age 10)
Limited to 8 children per session.
Children are welcom to come dressed up as a unicorn/princess/prince.
The activities take place in our stunning, natural orchard and marquee.
Experience adult pony handlers, who are all experienced horse owners.
Our unicorns are very quiet and cuddly.
£25 per child, adults £5, short unicorn ride £5 (restrictions apply)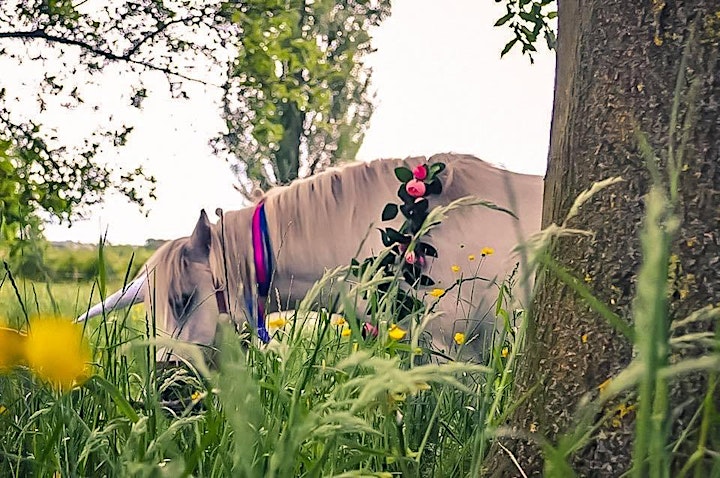 Maximum 8 per session.
Fully insured and registered as a riding establishment with Cheshire West and Chester.
Hats provided and must be worn when riding.
Directions, visitor info and full coronavirus procedures on booking.
Max heitght 5′ and 7 stones for riding (approx age 10)
FAQs
Are there minimum age requirements?
I prefer children to be at least 2 to participate, however if you have a nearly 2 year old who wants to join in please contact me – I may be able to makde suitable (safety) arrangements.
Teens are welcome but will be too tall to ride.
Where are you/ What are the parking arrangements?
We are at CH3 8NL, just outside Kelsall. Public transport is tricky. There is onsite free parking.
What should I wear?
All members of your group should wear suitable clothing. We are outside almost all of the time so warm clothing is essential Sturdy shoes (eg school shoes) are idea rather than flimsy sandals or wellies. Absolutely no open toe sandalls (including adults). All riders myst wear trousers/leggings.
Is the venue wheelchair/buggy friendly?
The activity takes place on flat grass but it is not bwoling green flat. If you are bringing a wheelchair please notify us and we can advise parking on hardstanding with level acess.
What happens if it rains?
The activities carry on unless there is exceptionally poor weather. If we do need to cancel due to poor weather we will issue a facebook past and email everyone.
Can I bring my dog?
No dogs are allowed on site.
Can I bring another child who won't participate?
All children aged 2 and above must be paid for. Children under 2 who are not participating may attend but must be closely supervised.
Can I take photographs?
There will be a 'photo booth' prop set up and an opportunity for you ti taje ogitigraogs of participating children with the unicorn. You may also take photos during the rest of the activity. If you do NOT wish your child to be photographed by other parents please notify your unicorn handler on the day.
How can I contact the organiser?
Call us on 07954 016179
Email: amanda@cheshireunicorns.co.uk
pm me on facebook @CheshireUnicorns
What's the refund policy?
Once purchased tickets can only be refunded at least 2 weeks prior to an event.
Refunds and booking ammendments incur an admin fee of:
£10 per booking plus £1 per ticket if there is more than 1 ticket.
Do I have to bring my printed ticket to the event?
You don't need to bring your ticket – I have a list of everyone and check everyone in.
How are we making our activities safe for you during the coronavirus pandemic?
We're following the Government guidance as well as that from Cheshire West and Chester council and The British Horse Society. We've reduced the number of participants for each activity, where possible equipment will be single person use and have additional cleaning measures in place as well as , of course, social distancing.
To see all the measures we've put in place please feel free to watch the video below from owner, Amanda.
Click here to watch our additional biosecurity procedures to keep you safe